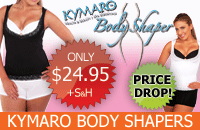 Kymaro Body Shapers are the fastest and safest way to take off inches in all the important places where we can't seem to lose the weight. Plus, these amazing undergarments smooth out the rolls and bulges, giving the simple look of a sleek and slender body.
What Shaper Size Am I?
This Body Shaper by Kymaro - The Kymaro Shaping Tank is Kymaro's Best Body Shaper yet! Kymaro took the original design of thier "Kymaro New Body Shaper"and improved on it creating a superior higher quality Body Shaper. If you liked your old New Body Shaper you're going to love your new Shaping Tank.
Everyone will be asking you how you lost the weight! No other shaper out there compares to this!
This Shaping Tank will lift a sagging bust line, tone the midsection, eliminate any bra bulge, and get rid of those nasty rolls once and for all! Simply step into the it and look up to 20 pounds thinner...instantly!!!
Now you don't need to worry about how you will fit into your clothes. Pair it with your favorite tee or cardigan or wear it under your favorite dress for a smooth invisible look under your clothes! There are so many ways to wear the Kymaro Shaping Tank and it is great for all occasions and seasons!
There is no uncomfortable elastic or binding material. The lightweight fabric moves with you and will not curl or roll up! But the Kymaro Shaper Tank does not just help in providing excellent support and remarkable shaping; it also helps your posture!
Frequently Asked Questions
What is the Modesty Piece?
Take any shirt in your closet and make them office appropriate in seconds. Simply clip the modesty piece to your bra or shaper and presto... a layered look but without the bulk! Now you can wear your favorite low cut tops to work and then simply remove it for a night on the town! Added Free with each Shaper ordered!
What is the Kymaro Shaping Tank made of?
90% Polyester
10% Spandex

Will the product shrink?
To avoid shrinkage DO NOT tumble dry the shaping tank.
How do you clean the Kymaro Shaping Tank?
Shaping Tank Washing Instructions:
• Machine Wash Warm
• With Like Colors
• Do Not Bleach
• Do Not Dry Clean
• Lay Flat To Dry

What is the difference between the older "Kymaro New Body Shaper" and the newer "Kymaro Shaping Tank"?
The Kymaro Shaping Tank sold here at AsSeenOnTVspot.com is the newest and highest quality Kymaro Body Shaper available in the Kymaro Body Shaper line. Kymaro took their "New Body Shaper" and improved on it creating the Kymaro Shaping Tank. If you liked the New Body Shaper you're going to love your Shaping Tank.
OFFER DETAILS: This is a Close Out Item. We unfortunately cannot accept returns or exchanges on undergarments for hygiene reasons. See our Shipping & Returns page for more information.
Don't forget to add a Kymaro Bottom Shaper to your cart before you check out.
Click Here for the Kymaro Bottom Shaper Page
The fastest way to get your figure back! This seamless shaper hugs everything in place, leaving you with smooth lines and sexy curves.