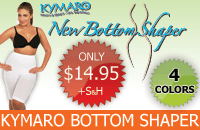 GET A FREE BOTTOM SHAPER!!!
Add 4 Bottom Shapers To Your Shopping Cart & Use COUPON CODE - "FREEBOTTOMSHAPER" At Checkout. Coupon Value $14.95
Kymaro® the leader in Figure Fixing Fashion™ brings you The Kymaro® New Bottom Shaper. The fastest way to get your figure back! This seamless shaper hugs everything in place, leaving you with smooth lines and sexy curves.
Eliminate those saddlebags and smooth out your hips and thighs, it's an immediate figure transformation!

Provides shaping and control from the torso to just above the knee, so there's no rolling.
What Bottom Shaper size am I?
Kymaro's® New Bottom Shaper is comfortable and easy to use. While using this shaper you won't have to bother about not having any curves. It'll certainly offer you noticeable results in a few moments. No demanding and difficult dieting is required to have a good figure. No exhausting exercises and workouts are needed for you to gain that lovely physique.
Having a lovely figure is easy when using the Kymaro's® New Bottom Shaper. You only need to put them on and you're all set to go. You'll have an eye appealing body in only a few minutes.
The Bottom Shaper comes in 4 colors!
It's the best option to make sure you are always prepared for different colored outfits.

Colors are Nude, Black, Brown and White.
Frequently Asked Questions
Is it washable?
All garments are machine washable in warm water, with like colors. Do not bleach. Lay flat to dry, low iron if needed.

Will the product shrink?
No, the New Bottom Shaper is pre-shrunk, but we do recommend you air dry it like you would pantyhose.

Can I wear the New Bottom Shaper without underwear?
Yes, the New Bottom Shapers have a cotton gusset so you can wear it in place of underwear and, best of all, no visible panty lines.
How far above the waist do the bottoms go?
The shorts, depending on the body type, can rest on the waist line or go all the way under your bust. There really isn't a right or wrong for this, its more for comfort. Some women want the extra coverage so they like the shorts to go under the bust, other women are only wearing the shorts to remove underwear lines so they are fine with the shorts resting on their waist line.


Is the New Bottom Shaper Hot to Wear?
The New Bottom Shaper is comfortable to wear even in hot weather and does not trap body heat
OFFER DETAILS: This is a Close Out Item. We unfortunately cannot accept returns or exchanges on undergarments for hygiene reasons. See our Shipping & Returns page for more information.
Don't forget to add a Kymaro Body Shaper Top to your cart before you check out.
Click Here for the Kymaro Body Shaper Page
The Kymaro Shaping Tank is Kymaro's Best Body Shaper yet!.